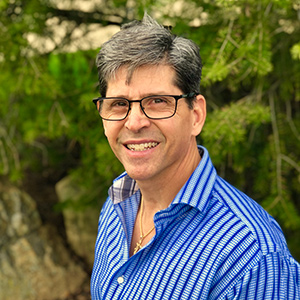 Dr. Lou Bevilacqua
Dr. Lou Bevilacqua is the founder and President of Sanare Today. He has been a practicing clinician since 1989. Dr. Lou has worked in community mental health, schools, juvenile detention centers, psychiatric hospitals, large group practices and in private practice. He has developed multiple programs serving children, adolescents and adults. He is trained in cognitive-behavioral therapy and received his doctorate from the Philadelphia College of Osteopathic Medicine. Dr. Lou's latest book, "When you can't snap out of it: Finding your way through depression" is available through amazon.com. You can visit his website at drlouonline.com. After many years of helping other companies develop and implement programs, Dr. Lou decided to create Sanare Today. Sanare means 'to heal' in Italian. Dr. Lou believes very strongly in the healing power of psychotherapy. He also believes in assessing and treating the whole person. Therefore, he looks beyond the depression, anxiety and addiction issues most individuals present with and also explores the physical, social and spiritual health of individuals. This view and approach is integral to the services provided by all staff within Sanare Today. Dr. Lou and the staff at Sanare Today are passionate about helping people learn to thrive.
Mike Smolenski
Mike Smolenski is a licensed Professional Counselor who earned a B.A. in Psychology from University of Pennsylvania in 2000 and a M.A. in Clinical/Counseling Psychology from LaSalle University in 2004. Mike is currently leading the Intensive Outpatient Program for Adolescents aged 14-18 at the West Chester location.
Mike has varied experience working with individuals in a wide range of settings including inpatient hospitals, community mental health, IOP, schools, and individual and group settings. His primary specialty is working with adolescents suffering from many different mental health issues. Mike is skilled in working with clients ages 11 and older.
Mike uses cognitive behavioral therapy and client-centered approaches as his foundation for treatment. He also greatly values the use of humor as a modality in the treatment of those struggling with mental health issues. Mike is dedicated to helping each client make healthy choices and learn how to best help themselves. Mike places great importance on building a  strong therapeutic relationship, as this provides the foundation for change.
Julia King
Julia King is a licensed professional counselor leading the intensive outpatient program for adults in the Springfield location. Julia also acts as co-director for Sanare Today's life coaching program.She received her B.S. in Psychology from the University of Delaware and her Master of Science Degree from the Philadelphia College of Osteopathic Medicine in Mental Health Counseling.
In addition to being an IOP therapist, Julia also has a private practice in Philadelphia and Media where she works with adults with a broad range of mental health issues. Julia has completed a post graduate education program in Sex Therapy at Council for Relationships. She also specializes in sex therapy and works with individuals and couples impacted by sexual difficulties, LGBTQA, and more.
Julia utilizes Cognitive-Behavioral, Acceptance and Commitment, and Mindfulness-Based Therapy. She entered this field because she wants to provide a safe and accepting place for people to share their stories and seek help with the difficulties that are impacting their lives. Julia truly appreciates understanding client's perspectives and helping them move toward mutually established therapeutic goals.
Jennifer Lubas
Jennifer Lubas is a Licensed Professional Counselor, National Board Certified Counselor and a Registered Yoga Teacher.  With over 15 years experience in the counseling profession, and as a graduate of West Chester University specializing in Counseling Psychology, she is currently running the Intensive Outpatient Program at the King of Prussia Location.
In addition to being an IOP therapist, Jen has served as a clinical supervisor to other practitioners, facilitates interactive workshops in meditation and yoga as well as teaching a weekly yoga and meditation class.   She is trained in Mindfulness Based Stress Reduction, therapeutic yoga techniques and DBT informed strategies as well as traditional talk therapy and CBT.
Jen is an interactive, eclectic therapist. Her therapeutic approach is to provide support, techniques and feedback to help clients effectively address personal life challenges. She integrates complementary methodologies such as yoga therapy, meditation and breath work to offer a highly personalized approach tailored to each client. With compassion and understanding, she works with each individual to help them build on their strengths and attain the personal growth they are committed to accomplishing.
Jen is a current member of the American Counseling Association and the Yoga Alliance.  She has been practicing yoga for 13 years and meditation for 8 years. She just finished her 500 hour yoga teacher training program and the pre-requisite course for Life Force Yoga, Yoga Skills for Therapists.
Rachael Bevilacqua
Rachael Bevilacqua is a licensed professional counselor currently leading the intensive outpatient mental health program for adults in the West Chester location. Rachael is also the co-director for Sanare Today's life coaching program. Rachael earned a B.A. in Psychology from Shippensburg University and holds a Master's degree in Clinical Health Psychology from Philadelphia College of Osteopathic Medicine. Rachael is also certified in personal training from International Sports Science Association and certified in nutrition from Precision Nutrition.
Rachael has experience working with all ages and in a variety of settings including outpatient, intensive outpatient, partial hospitalization and residential levels of care. Rachael's primary specialty focuses on those struggling with depression, anxiety, and eating issues. Rachael's main therapeutic approach consists of cognitive-behavioral interventions and motivational interviewing techniques.
Rachael emphasizes the importance of a holistic approach in her treatment by educating clients on how components such as food, sleep, and social interaction influence mood and functioning. Rachael is known to use sarcasm as a way to bring ease to the group setting, while also remaining focused on goals and providing accountability for each client.
Rachael likes to remind all clients and potential clients that in order to experience something new in life, we must do something new in life. "Ask yourself if what you're doing today, is getting you closer to where you want to be tomorrow."
Charlie May
Charlie May has a Master's Degree in Clinical Social Service from Bryn Mawr College, which he acquired in 2005. He is a practicing psychotherapist in suburban Philadelphia with twelve years of direct service with adults at the Partial Hospitalization and Intensive Outpatient levels of care. Charlie is currently leading the Intensive Outpatient Program for Adults in the North Wales location.
With a long-standing commitment to study and practice, Charlie has extensive training in meditation-based methodologies, including Mindfulness Based Stress Reduction, DBT, Buddhist Psychology, and Gestalt therapy. He has an integrated meditation practice spanning three decades, including a formal sitting practice, martial arts and yoga. He also has a significant interest in Schema Therapy, which he uses in his work with his IOP groups. "It all boils down to 'present moment awareness,' and being prepared to meet that moment wisely, whatever it may hold in store."
Charlie enjoys facilitating the group process, which creates opportunities for connection and leverage for healing, learning, and growing. He believes the value of a safe, non-judgmental environment in which one realizes experientially that they are "not alone" cannot be underestimated and for which there is no substitute.
Lauren Rudolph
Lauren Rudolph, LPC has worked as a clinician in the field of psychology for the majority of a decade. She has worked in a variety of mental health and substance abuse settings including inpatient rehab with adults, inpatient psychiatric with adolescents/adults, partial hospital program with adolescents, in home therapy services with adolescents and their families, and outpatient therapy with adults and adolescents diagnosed with co-occurring disorders. During her years in practice, she has developed a skill set of a variety of evidenced based techniques that she enjoys offering to her clients including: Cognitive Behavioral Therapy (CBT), Dialectical Behavior Therapy (DBT), Motivational Interviewing, Trauma Informed treatment and EMDR (Eye-Movement Desensitization and Reprocessing). She feels that it is important to provide an equal focus on substance use disorders and mental health and wants to help empower clients to identify the core issues that are contributing to their symptoms and learn different ways of healing.  Lauren has lived in Chester County most of her life and enjoys being an active member of her community and reaching out to those who need support and direction to obtain services. She is a trained facilitator for the Strengthening Families Program 10-14, a program to help guide youth struggling with peer pressure and stress while offering parents techniques to support their children and build positive relationships. Lauren is a mother to her baby boy and enjoys spending time with her family, cooking, and taking day trips. 
Anthony Yuschak, M.S.Ed.
Anthony Yuschak, M.S.Ed. earned his graduate degree in mental health counseling from the University of Pennsylvania and has prior experience in community mental health, inpatient psychiatric treatment, and private practice. Anthony employs a diverse array of therapeutic interventions, designed to help clients understand and improve their moment-to-moment emotional experience. His approach is informed by a background in meditation, Eastern contemplative philosophical traditions, and evolutionary psychology. Anthony's areas of clinical strength include depression, anxiety, relationship challenges, anger, addiction, spirituality, trauma, obsessive/compulsive behaviors, bipolar disorder, borderline personality disorder, employment challenges, and existential crises.
Victoria McDougald
Victoria McDougald is currently leading the intensive outpatient program for adolescents in the Springfield location. She received her B.A. in Psychology from Rutgers University and her Master of Social Work Degree from Rutgers Graduate School of Social Work.
In addition to being an IOP therapist, Victoria also has a private practice in Philadelphia and Skippack where she works with children, adolescents and adults dealing with depression, anxiety and trauma. Victoria completed a Post Graduate Certificate in Advanced Studies in Trauma Counseling at Philadelphia University, a Massage Therapy Certificate from Health Choices Massage School and Holistic Institute and a Body/Mind Studies Certificate from The Transpersonal Center for Body Mind Studies. She is nationally certified in Trauma-Focused Cognitive Behavioral Therapy.
Victoria utilizes Cognitive-Behavioral Therapy, Dialectical Behavioral Therapy, Acceptance and Commitment Therapy, Mindfulness-Based Therapy, Movement, Experiential Exercises and Body Mind techniques in treatment. She has been in clinical practice with children, adolescents and adults for the last 18 years. Victoria works collaboratively with clients to prioritize forming a safe, trusting alliance as a foundation to work together in healing, growth and achieving their desired change.
Gina M. Carfagno
Carfagno is a Licensed Social Worker, and soon will be transitioning to Licensed Clinical Social Worker.  Gina earned her BA in Psychology from Albright College in 2008 and MSS in Clinical Social Work from Bryn Mawr College Graduate School of Social Work and Social Research.  Additionally, Gina is actively enrolled in a 3-year Gestalt Certificate program and serving as a class representative of the local Gestalt community affiliated with The Gestalt Therapy Institute of Philadelphia.  Gina is leading Sanare's Havertown location for Intensive Outpatient Program for adults 18 and older.
Gina has varied experience working with individuals with a range of mental health struggles through higher level of care with IOP programing, working with individual clients in psychotherapy.  Gina works with clients who present with, but not limited to, suicidal ideation, PTSD, trauma, adjustment disorders, depression, anxiety, bipolar disorder, schizophrenia, psychosis, eating disorders, and self-harm behaviors.
Gina is known for her delicate trauma-work as well as her ability and trials to bring experiential sessions to life. She believes that through shared experiences, we can put ourselves together as a force, building off of each other's energy and strengths as well as weaknesses.  Gina is a very compassionate, trustworthy, ambitious, and understanding therapist who wants to learn and help individuals improve their mental health and grow as a healthy whole person.  Gina is passionate about wanting to help others and often asks her clients what they are passionate about.  It is Gina's goal to always provide consistent, patient, compassionate, challenging, and dedicated care to clients.  Gina is often said to "ankle bite" for her clients; that is, advocate for their rights to treatment, their right to understand their diagnosis, and their right to not be dismissed or labeled "crazy."  In turn, Gina attempts to model behavior for her clients to learn to grow their voice, and "ankle bite" for themselves once they graduate from IOP or out of her care.  "I recognize that I play an important role in the life of my clients and I do not, and will never, take that for granted.  It is my true passion to make a difference and help people as best as I can.